Anything uncertain? Let's get everything cleared up!
If you still have questions after reading this page, please ask us at info@radentscheid-muenchen.de.
Who can sign?
Anyone allowed to vote in regional matters in Munich:
– over 18
– Registered as a Munich resident (zip codes 80000 – 81929, examples are on the signature lists)
– Registered with Munich as your primary residence for at least two months
– Still living in Munich through the Summer 2019, until the date the lists will be turned in
– EU citizen
Which events are already planned?
There are already set events and other ideas, such as the Bicycle Rally on April 7 2019, the E-Bike Days, and the Munich Stadtradeln. Our website lists the current events.
What do we demand?
The Radentscheid Munich demands the following from the City of Munich:
●       Safe, wide, and convenient cycling facilities, so that everyone in Munich can easily travel by bike.
●       A city-wide, continuous, and dense cycling network, so that everyone in Munich can quickly get from A to B by bike.
●       Safe, uncomplicated, and stress-free intersections and junctions so that everyone in Munich can safely reach their destination by bike.
●       Safe, well-distributed bicycle parking available where it's needed, so that Munich bicycles can be parked and locked safely and be protected from the elements.
●       An area-efficient and socially equitable distribution of public space – then bicycles in Munich will have enough space.
How long will it take to collect signatures?
The big Bicycle Ringdemonstration on 30. June 2019 is the final stretch for our petitions.  Please bring your lists back by June 30.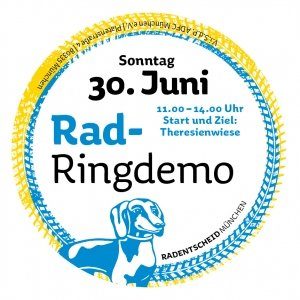 What are the goals of the Alliance? What is the process?
We need more than 100,000 votes for the referendum (Radentscheid), planned for autumn 2019. Prerequisite for this is a petition in early summer 2019. For this we need about 33,000 signatures. Our goal is to get many more signatures!
Who is behind the Radentscheid?
We are an alliance of many citizens who want to improve the situation for cyclists in Munich: sustainably and quickly, with the help of many associations and parties. We want a referendum to force a significant improvement for cyclists in Munich. The steering committee of the Alliance comprises: ADFC München e.V., Bund Naturschutz e.V., Bündnis 90 /
The Green Party of Munich, Die Linke München, Green City e.V. and ÖDP München. In addition, there are around 20 alliance partners ranging from the JDAV through the VCD to the Munich Environmental Institute.
How are things in the bicycle-friendly cities of Amsterdam or Copenhagen?
With the Radentscheid, we want to create the infrastructure to significantly increase the numbers of cyclists in the city and at the same time reduce accident risk. This will let us achieve conditions like in Amsterdam or Copenhagen. There, the proportion of cyclists is 70 to 90% higher and the accident rate is about 1/10 of that in Munich (!).
Relevant films from the ZDF Library:
Verkehr ohne Chaos (Traffic without Chaos)
Wo es auf den Straßen läuft (Where the roads run)
What do Bicycle Ambassadors do?
We already have over five hundred "Bicycle Ambassadors" who, as multipliers, spread our ideas, kindle enthusiasm, encourage donations, and help to collect the necessary signatures for our petition.  You do not have to be an EU citizen to be an Ambassador! If you are interested, register on the website: https://radentscheid.adfc-muenchen.de/radlbotschafter
Why the dachshund?
Conny supports us in our commitment to better cycling in Munich. With all the positive qualities that an iconic Munich dachshund has: strength, fortitude, pride, perseverance. And he'll take a nip at you – if he has to. The dachshund is our constant companion: With Conny at our side, we're making Munich better for bikes. Because one thing is certain: "When the dachshund looks in the mirror, he sees a lion."
Let's go!
The dachshund also stands for "we want things to be more relaxed,  friendly, and peaceful"
What are the health benefits of cycling?
Good for the joints:
Cycling for just ten minutes can increase the circulation of oxygen and nutrients to the leg's joint cartilage (knee and ankle), and can thus hinder osteoarthritis. It is even easier on the joints when we choose a low gear, as most of the weight is sitting on the saddle. An advantage over sports like jogging.
Benefits for the heart / circulatory system:
Regular biking teaches your heart to work more efficiently, with less effort. A ride of just 30 minutes can already show this effect. The World Health Organization recommends riding at least five times a week. This can reduce the heart attack risk by 50%.
Reduce cancer risk:
Researchers from the German Cancer Research Center in Heidelberg found that when post-menopausal women exercised – particularly on a bicycle – they significantly reduced their breast cancer risk. Riding a bike for 30 to 60 minutes a day reduces your risk of breast cancer by a third.
Additional advantages:
Strengthening of leg and back muscles, stimulation of metabolism, release of endorphins and serotonin (which can counteract depression), strengthening the immune system.
Reduce the accident rate:
Comparisons with flagship cities such as Amsterdam or Copenhagen show that a 10 times lower accident rate than in Munich is possible.
How will this help people who don't currently cycle? Do pedestrians, car drivers, business owners, and tradesmen have anything to gain?
We must not think in terms of opposition, but want to create more value for all: Many in our population would switch to cycling – if it were safer. In Amsterdam and Copenhagen, for example, the share of bicycle traffic is 70 to 90% higher than in Munich. This would also give Munich more space for pedestrians and less crowding in the tram or subway. Even emergency vehicles and tradesmen who really need to use a van would get through the city quicker.  
How do shops and stores benefit?
There are three concrete effects for the retail trade in Munich:
1. A more attractive downtown creates advantages for brick-and-mortar shops, particularly with regard to more athletic and value-oriented customers.
2. Cyclists shop more often and spend as much as – or more money than – motorists.
3. Support for the Radentscheid München would be a very concrete measure for environmental protection and would therefore increase our city's visible commitment to goals such as sustainability and climate and environmental protection, which most companies express explicitly.
How can companies donate?
What do companies get if they donate?
The best way for companies and chain stores to discuss sponsoring and marketing in detail together with our company donation and fundraising team is to contact us directly at: spenden@radentscheidmuenchen.de.
Here are a few principles:
Companies / branches may keep signature lists available for customers or take part in events for the Bicycle Referendum and thus increase their own visit frequency.
Companies can contribute to referendum activities and events, such as the April rally, with advertising, merchandising, etc.
The Bicycle Referendum logo can also be used in marketing. This applies to referendum activities or a company's own events.
In order to maintain the Alliance's independence, we will not put company logos on our website.
However, statements from companies can be included as testimonials (testimonial concept in progress).
Can companies claim donations or other support for the Bicycle Referendum as costs?
Tax information (as of February 2019, without guarantee)
Donations are tax deductible. For amounts over 200 euros per year, we automatically issue a donation receipt. Please enter your own name and address into the bank draft subject line when making your payment.
Up to the limit of 200 euros per year is the presentation of the remittance slip or account statement at the tax office sufficient (§ 50 para. 2 No. 2 letter b EStDV).
As a private individual, you may make tax deductions to charitable organizations up to 20% of your total income as special expenses. If the donations exceed this limit, the tax office automatically grants a contribution and takes it into account in the tax assessment of the following year.
For corporations, donations have an income-reducing effect.
In the case of sole proprietorships and partnerships, the tax deduction is shifted to the level of the entrepreneur or shareholder.
If you as a person want to use the 50% tax deduction option as a "party donation", you can also donate online via the following page – guaranteed for the benefit of the Bicycle Referendum – by selecting "Radentscheid" as a donation purpose: https: // www. gruene-muenchen.de/partei/spenden/?spenden-2019/spende
Lord Mayor Reiter in a recent interview declared the traffic chaos in Munich to be a top priority. So why do we still need the Radentscheid?
Of course, that makes us happy. However, the city council has already received many bicycle-oriented rules and regulations that wait for approval, and the current political majority is only progressing slowly on these issues. We want to promote one of the most efficient existing means of transport, namely cycling, using direct citizen participation in such a way that benefits are created for all interest groups. The fast and significant improvement of the cycling infrastructure is important. The Lord Mayor will be judged on his progress. The Radentscheid Alliance consists of nearly 30 groups and associations in which citizens are actively working for better cycling infrastructure. We are very open to cooperation that supports our goals.
The city of Munich has raised the annual budget for cycle infrastructure from around €10 to €25 million. So why do we still need the Radentscheid?
Of course we are pleased that things are going in the right direction. However, for decades the city has invested far too little.  And the relative investments in car travel far outstrip those for bicycle travel. The Mittlerer Ring tunnel at Luise-Kiesselbachplatz alone cost €400 million. The total budget of the city of Munich in 2018 was about €7 billion, of which almost €400 million was for the city construction department. Bicycle travel was not even mentioned in the category of "investment priorities". We absolutely must shift.