Both petitions must be signed on paper for valid signatures. There is no online version.
EU citizens can sign, if they have been registered in Munich for at least two months.
Why two petitions?
The Munich Bicycle Referendum has begun with not one, but two petitions! 
The goal: that our elected and non-elected city officials no longer be able to hide behind vague goals and half-hearted implementations! In addition to the first petition for general improvements to the bicycle infrastructure, in the second petition we demand the implementation of a very specific project: the Altstadt-Radlring (Downtown Cycle Ring). Many segments of the Cycle Ring can be implemented quickly and easily — on the Sonnenstraße for example.  Because of its central location, thousands of people in Munich will benefit every day when they can reach their destinations faster and more safely. Instead of unmarked, narrow cycle lanes between parked cars and the raging traffic, we need wide and sheltered bike paths and safe crossings. This is the only way to ensure that everyone feels secure on the road.In terms of implementation, the priorities must be set where gaps in the cycling priority network can be closed, for example at Blumenstraße, Schyrenstraße, or Sonnenstraße. Therefore, two signatures are important: the first on the yellow Bicycle Referendum signature list, the second on the blue Altstadt-Radlring list. You can sign at one of many collection points and during our events. Or you can also download the signature lists at the right and print them out yourself – even send them in by post!
EU citizens above the age of 18 who have been registered in Munich for at least 2 months may sign.  We're gradually making all these pages available in English so that everybody knows you don't have to speak German yet to demand your government work for you!
Who can sign?
Anyone allowed to vote in regional matters in Munich:
– over 18
– Registered as a Munich resident (zip codes from 80000-81929, examples are on the signature lists)
– Registered in Munich as your primary residence for at least two months
– Still living in Munich through the Summer 2019, until the date the lists will be turned in
– EU citizen
When's the deadline to sign?
The gigantic Bicycle-Ringdemonstration on 30. June 2019 is the final stretch for our petitions. Please bring your lists back by then!  Of course our Bicycle Ambassadors will still be available with lists to sign at the demo itself…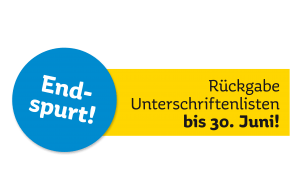 0
Wochen
0
Tage
0
Stunden
0
Minuten
0
Sekunden
2 Signature Lists for printing
This map shows cafés, bike shops, doctors' practices, and the offices of our Alliance Partners where you can find preprinted signature lists ready to sign, wherever you are.
Our  Current Events will also always have signature lists available.
Thank you for participating!
[wpsl category="Bestätigte Sammelstelle"]
You know more businesses that would like to participate?
Let us know with this this form.
You need more stickers or signature lists?
Our materials depots provide advertising material and can accept your signed signature lists.